Faced with declining voice revenues and having under-exploited the first SMS-based mobile marketing wave, Mobile Operators view mobile advertising as a key new revenue stream. However, the size of these revenues will depend on how much of the Mobile Advertising value chain the Operators manage to control and the extent to which they leverage their customer base through effective use of their CRM data.
Implementing an end-to-end Mobile Advertising platform with multi-channel delivery capabilities on their own network will enableMobile Operators to build a strong position in the Mobile Advertising ecosystem and to monetise their strategic assets. To overcome the problems of current mobile advertising solutions, this platform must focus on the user experience and enable flexible ad-funded business models. Most importantly, it must allow Operators to
demonstrate the intrinsic value of their network and successfully wholesale this
value to the advertising ecosystem.
Requirements
An end-to-end Mobile Advertising platform requires a combination of capabilities intergated into a single suite. The key enablers are listed below:
Advertiser Management - Self-service web interfaces and business process workflow to automate and manage the rapid signup of advertisers
Profile & Capability Exposure - The secure exposure of advertising delivery channels including SMS, MMS and WAP Push and the privacy controlled exposure of operator-owned subscriber data;
Campaign Management & Reporting - A simple but flexible web interface through which Advertisers can plan, define and monitor their advertising campaigns and view real-time feedback reports.
Charging & Rating Engine - A real-time charging and rating engine for the platform. This acts as a centralised charging gateway for the platform, decoupling platform components from back-end billing systems, and providing a central rating engine to define new adfunded pricing plans across the platform
Profile Server - A central Profile Server providing unified access to consolidated subscriber profile and feedback results. The Profile Server collates subscriber and service data from network elements, platform products, back end CRM and Business Intelligence databases, location servers, and device databases and presents it through easily accessible interfaces to the entire platform and external Business Intelligence platforms
Ad Server - The Ad Server is responsible for serving ads to the various delivery channels based on the active campaigns, campaign priority, subscriber profile and context.
Direct Message Marketing - A secure message gateway that interfaces with messaging network elements to enable direct marketing by delivering SMS, MMS and WAP Push messages to subscribers, and enabling SMS response campaigns
In-Message Advertising - The capability to insert ads into Person-to-Person (P2P) messaging to enabling adfunded SMS. The component probes the signalling network for messages destined for subscribers who have opted in to receive advertising and inserts appropriate text ads
ODP Advertising - The capability to deliver ads direct to On Device Portals. Banner ads, rich media video adverts, and multi-layer adverts combining images, video and games can be displayed at various locations on the ODP interface. Various call to actions including 'Browse to URL', 'Initiate Call' and 'Send Text Message' can be associated with each ad; • On Portal Advertising - The capability to deliver contextualised banner ads and interstitials on the Operator's mobile portal
Other Mobile Advertising Channels - A set of simple open interfaces to enable ads to be served to other delivery channels such as Internet portals or Mobile TV interstitials.
SDP Configuration
The SDP Alliance solution can be configured to support the key enablers described above. The configuration is essentially that of a content-delivery SDP with some additional enablers such as Campaign Management, an Ad Server and additional Advertising Delivery Channels. To specifically address the Mobile Advertising market, the SDP Alliance has launched the Mobile Advertising Alliance including some new partners to provide missing functionality. A logical view of the configuration is illustrated below.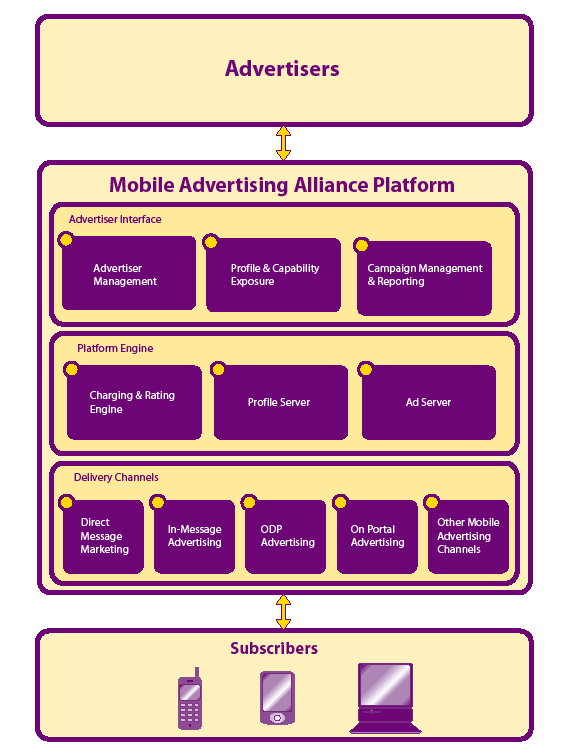 The Mobile Advertising Alliance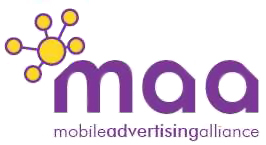 The MAA is an SDP Alliance initiative that markets and end-to-end mobile advertising platform to mobile operators and system integrators.

For more information about the The Mobile Advertising Alliance, visit www.mobileadvertisingalliance.com